Volkswagen Brings the Buzz with an all-new, all-electric Bus
April 11 2019, Cowell Volkswagen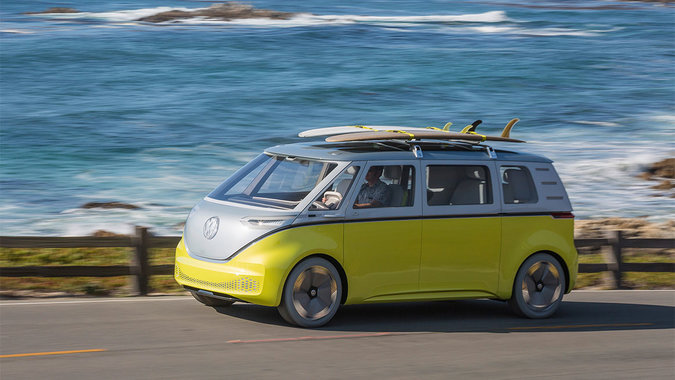 The Volkswagen I.D. Buzz is slated to become the next big thing in Volkswagen's changing lineup. The I.D. Buzz is the futuristic redesign of Volkswagen's iconic microbus. Although the design is a nod to the original hippy-mobile, this concept vehicle is anything but old-fashioned. After celebrating 50 years in business, Cowell Volkswagen has been around to watch the Volkswagen brand grow, and we look forward to using our experience and adapting to all the new model's Volkswagen is deploying.
After premiering at the North American International Auto Show earlier this year, the I.D. Buzz lived up to its name and created quite the buzz. It's no wonder Volkswagen had made the leap to permanently add the all-electric I.D Buzz into Volkswagen's electric lineup by 2022.
VW CEO Dr. Herbert Diess made the announcement in early August at the Pebble Beach Concours d'Elegance, a part of the prestigious Monterey Car Week. "After the presentations at the global motor shows in Detroit and Geneva, we received a large number of letters and emails from customers who said, 'please build this car…now we're bringing it back by reinventing it as an electric vehicle."
This new bus will come with no engine at the back, but instead two electric motors – one on each axle – making it all-wheel-drive. The zero-emissions all-wheel drive system has a total output of 369 hp and an NEDC electric driving range of 600 km.
Based on Volkswagen's exclusive, all-electric MEB platform, the I.D. BUZZ is a next-generation vehicle based on the new Modular Electric Drive Kit (MEB). MEB offers comfort and plenty of space with batteries under the floor. Space utilization in the Volkswagen I.D. Buzz is said to be better than in any other electric vehicle. The I.D. Buzz can carry up to eight people, and also has the ability to carry all their outdoor lifestyle equipment and luggage as well.
Bloomberg New Energy Finance reports that battery-powered cars and gas-electric plug-in hybrids are poised to grow so fast that, by 2040, they'll make up more than half of vehicles sold globally. Volkswagen is making huge progress in reducing production costs in order to make electric vehicles more viable. Volkswagen has stated they will be able to use "leapfrogging cost advantages" to profitably sell electric cars at competitive prices. Word is still out on whether or not Canada will be getting the all-new I.D. Buzz, but we'll keep an eye out. All we know is that 2022 can't come soon enough.